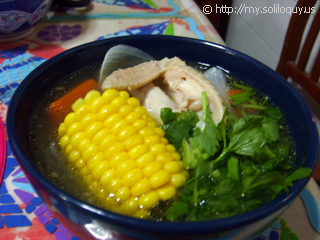 made this chicken soup from scratch. kind of.
whole chicken, chopped into bite size pieces
corn, chopped
large potatoes, chopped
carrots, chopped
celery, chopped
salt and pepper to taste
knorr chicken cube
mixed herbs
parsley
large onions, chopped into quarters
decided not to write down the quantities of the ingredients i used. the quantities i use are for a family of 6 and it's purposely made with having leftovers in mind. reason for having leftovers is i'm lazy to cook for lunch. and in case i have something on and i'm not home, my little brothers can just microwave the leftovers.